Necessity is the mother of invention, or so the saying goes.
And in today's world there are enough needs to fuel endless innovation. From medical issues to recycling waste, from energy use to sanitation, there are few corners of the globe without pressing needs to try and meet.
So what's the best way to turn ideas into reality? The Tata Varsity Pitch Competition offers one pathway, bringing innovators and established industry experts together.
Underpinned by the National Association of College & University Entrepreneurs, or NACUE, the competition celebrates high potential, early stage ventures coming directly out of colleges and universities across the UK.
A record 424 UK start-ups competed to make the finals of this year's competition and its £15,000 prize. That list was eventually whittled down to seven finalists with ideas that could have a real impact.
Harnessing waste
While plastic is a ground-breaking material that we've come to rely upon, the planet is choking under its weight. With this in mind, a team from Durham University devised a plan to turn plastic waste into an aggregate for concrete.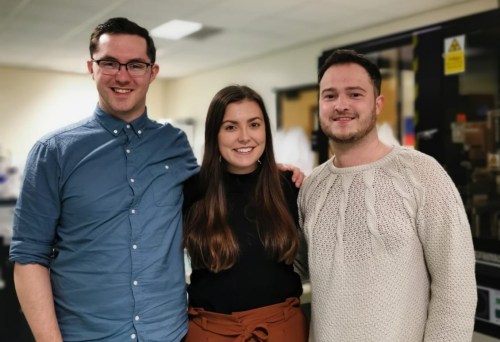 In this way the Plastech Innovation team – experts in material science as well as in nanotechnology – wants to put yesterday's plastic into tomorrow's technologies and make a dent in the mountain of waste we produce.
Their idea offers waste management companies a new disposal route and one that is more cost-effective and more eco-friendly, according to the chief executive, Natasha Boulding. In addition, it is more economic than conventional concrete production.
While Plastech Innovation have a basic prototype and have already won two other innovation awards, they appreciate the need to keep learning. And that's where the critical stage of Tata's competition comes in.
Useful advice
The seven finalists attended a bootcamp where Tata Consultancy Services and Tata Ltd experts from business, tech, finance and HR mentored them in an all-day 'speed-dating' round at TCS London HQ.
This is not a forum for platitudes, however, entrants genuinely wanted constructive criticism on their projects, with the aim of making them better.
"What I really wanted was for someone to poke holes in my business plan," says Eoin Sharkey, a mechanical engineer from the University of Bath, whose BioFactory venture aims to build safe sanitation in developing communities and then harness the biogas from toilet waste to generate power. "Most people just want to tell you how great your idea is, so it's been good to hear how I might think a bit differently."
The founder of Cosi Care, a child-friendly tech product that uses cooling to relieve the irritation of eczema, Lauren Bell, from Brunel University, is already the Mayor of London's Entrepreneur of the Year and brought her working prototype to the boot camp.
"This can be a lonely process, when all your friends are in grad jobs," she said. "Getting practical feedback from experts, including on placement and packaging, has been invaluable."
Finalist Motics – a three-person team from Imperial College, LSE and UCL – created wearable technology which measures muscle function and stimulates muscle activity in physiotherapy patients, while also providing analytics for physiotherapists.
New investment is their priority, according to co-founder Peter Wilson.
"I've been doing the financial modelling myself so was keen to get advice on revenue streams and marketing," he said. "Having fresh pairs of eyes on that has been especially useful."
The industry view
That advice was provided by Tata and TCS volunteers, who took time out to mentor the finalists.
"It's eye-opening to discover just what kind of innovation is out there," Tata Ltd finance manager and returning volunteer Kanchan Gokhale Kanchan said.
The winner must pitch for their title, at an event in London's British Library, and a second day of networking and speaking practice helped the finalists prepare. Among the judges will be Tim Jones, executive director of Tata Ltd and Professor Sally Eaves, Emergent Technology CTO.
The competition is deliberately non sector-specific, explains NACUE chief executive Holly Knower.
"That means we get an extremely broad range of entries from a good spread of universities and a diverse field of competitors," she said. "Numbers were up by a quarter this year and, in the still male-dominated world of entrepreneurship, 48% of participants were women. The calibre of entrants just continues to get better."
With every finalist hopeful of turning their ideas into reality, Chandrasekaran Ramkumar, TCS HR director, wound up the boot camp with a supportive reality check.
"Having a great idea to make lots of profits is one thing," he said. "Design and execution is by far the greater challenge."