Women now make up half the workforce in many advanced economies, and are often earning more university degrees. Yet in the world of science and technology, there is a stubborn imbalance between men and women particularly in high-end, maths-intensive fields such as computer science and engineering.
In the United States, women in STEM professions (science, technology, engineering and mathematics) made up 7% of that workforce in 1970. The figure had risen to 23% by 1990, but after that progress ground to a halt. Two decades later, in 2011, women still made up only 26% of the science workforce.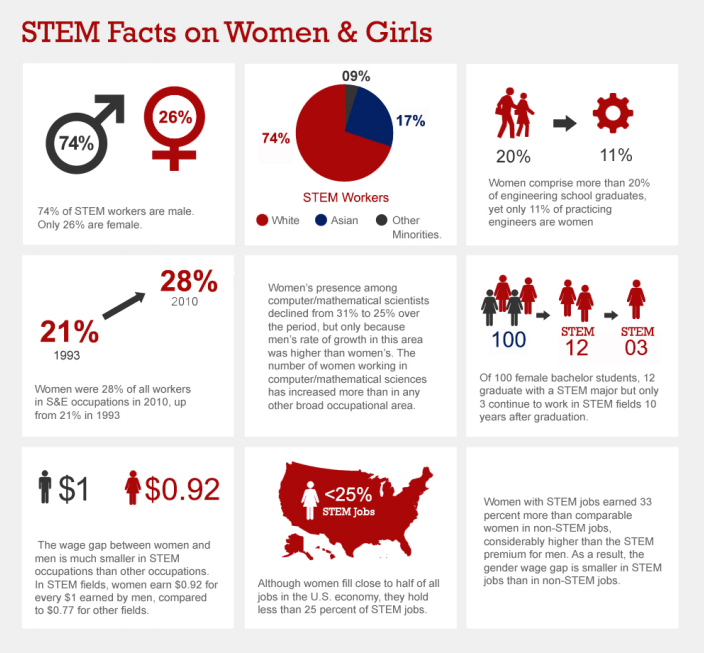 Source: TCS
There doesn't seem to be a shortage of demand for women in STEM – indeed, many companies are keen to address the imbalance. Instead the problem seems to be more complex: cultural norms such as girls being steered toward other professions from an early age, gender bias entrenched in male-dominated workplaces and lack of awareness regarding the career opportunities that computer science offers.
A cost to us all
This is not just a problem for women who want to work in STEM. The lack of women and diversity in those fields has an impact on everyone.
There are very practical considerations. For generations, the model used in biomedical research to design drugs and products has been an average-sized male. Even the rodents used in these experiments were male. Historically, scientists did not realise that adding sex as a variable for tests should be a possibility, given the physiological differences and need for different drugs and dosages. This seemingly minor oversite has cost lives and would have been much less likely to happen had the workforce been more diverse.
The benefits are also more nuanced. Employing different perspectives and abilities – women and minorities across cultures – can enrich the creativity and insight of products and increase the chances of innovation. Studies conducted by Bank of America, Goldman Sachs and several other institutions have found that companies that employ more women consistently outperform their competitors.
The mentored approach
A major effort is clearly needed to encourage more women into STEM and that is exactly why the Million Women Mentors (MWM) initiative was launched.
MWM started out with the aim of encouraging one million people to mentor women and girls to increase their interest and confidence to succeed in STEM programs and careers.
In just one company – Tata Consultancy Services, the leading corporate supporter of the MWM campaign – more than 55,000 mentoring relationships (from both men and women) have been enabled for girls and young women among underserved communities across the globe.
The campaign is underpinned by a technology platform which captures all pledges, provides mentoring opportunity maps, connects mentors to organisations serving mentees and tracks progress. It was developed pro-bono by TCS as a founding member of the program.
The company also recently created a new, mobile-friendly MWM web portal with features such as logging the progress of working with mentees and sharing resources among communities of mentors, companies and girl-serving organizations. All these features have helped build the campaign into one which has received widespread support and encouragement from across business and government. More than 20 US Senators and Congresswomen and Congressmen applauded MWM's achievements at an event in Washington DC in the summer of 2016.
A new target
Such is the success of MWM that it reached its target of one million mentoring pledges within two years instead of the planned four. The goal has now been doubled to two million.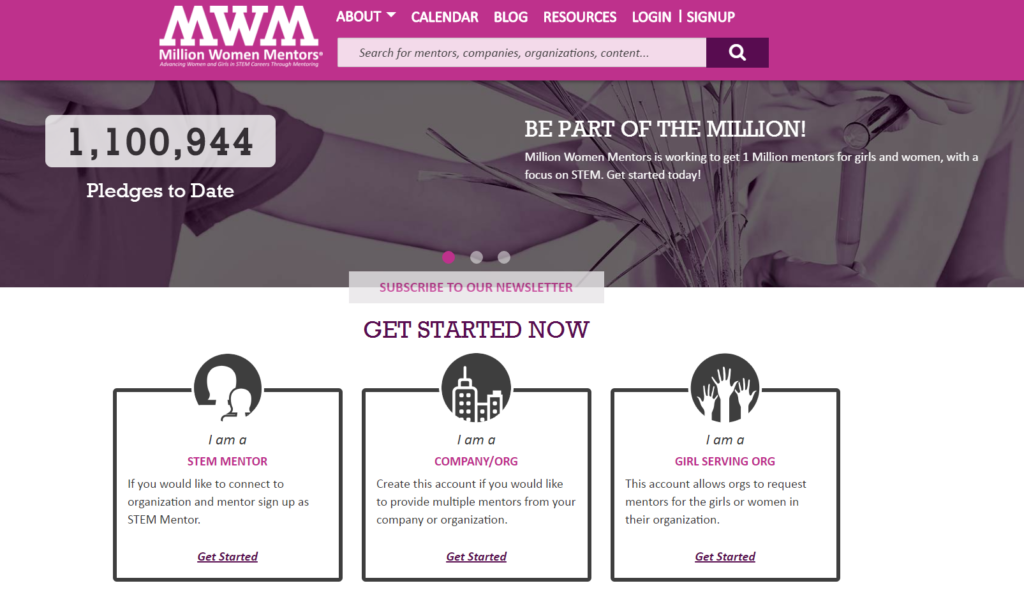 The MWM website exceeds one million pledges
Addressing the shortage of women in STEM careers is no simple task. It requires action on multiple fronts to increase the percentage of school girls planning to pursue STEM careers, increase the percentage of young women pursuing undergraduate degrees in STEM fields and, of course, increase the percentage of women staying and advancing in STEM careers through supporting workforce mentoring programs.
The good news is that women in STEM careers earn 92 cents for every dollar male STEM counterparts earn, versus just 77 cents on average in other fields. That is encouraging.
But more needs to be done, and done quickly. By 2018, 71% of jobs in 2018 in the United States will require STEM skills. Without including women it will be impossible to find the human capital to fill these jobs. It is in everyone's interests to help more women choose STEM careers and help those already in such careers remain there.