Artificial intelligence is ubiquitous. It's built seamlessly into everyday functions, from finding the best travel directions to suggesting what we would like to buy.   
But while the technology is progressing rapidly, the diversity of those designing the algorithms is not.
Only 22% of AI professionals globally are female,  according to the World Economic Forum's Global Gender Gap Report 2018, something the report says will limit AI's innovative and inclusive capacity.
And for women in the wider IT workforce in Europe, that number drops further still. The European Commission's Women In The Digital Age report 2018 found that only 13% of the graduates in ICT-related fields working in digital jobs are women, compared to 15% in 2011, revealing the gender gap is actually widening.
"If existing biases are not addressed, rapid economic advances achieved by digital transformation will not take into account existing gender gaps in the sector, which will simply amplify and possibly perpetuate gender stereotypes," the EC report warns.
Finding balance
In the era of Business 4.0, the more equally digital skills are balanced between genders, the more everyone will benefit.
Indeed, the theme for this year's International Women's Day is #BalanceforBetter – aiming to demonstrate how a more gender-balanced world is better for everyone.
One of the largest employers of women in the private sector, with close to 150,000 women globally (36% of its global workforce), Tata Consultancy Services (TCS) is helping to address the IT gender imbalance.
Jennifer Stanzl, head of Talent Management at TCS UK&I, has co-founded the internal gender diversity 'Hive' network, dedicated to engaging, developing and retaining talented women.
In the UK and Ireland, that has helped fuel an increase in the number of female employees by 3.4% year-on-year to 28% at TCS as well as Diligenta, its life and pensions subsidiary, according to Jennifer Stanzl, Head of Talent Management, UK&I.
"Considering the scarcity of women in IT in the UK, it's a good percentage – and yet we want more at all levels," Stanzl says.
She was also instrumental in setting up the Star Mentoring program, matching high-potential women with executive mentors, to help the women progress their careers.
"A key focus for us is to get more women into leadership roles," she says. "About 90% of our leaders are recruited internally, which we're very proud of.
"And while we believe in growing our own talent, it does mean that it's taking us a bit longer to change the gender ratio at the top."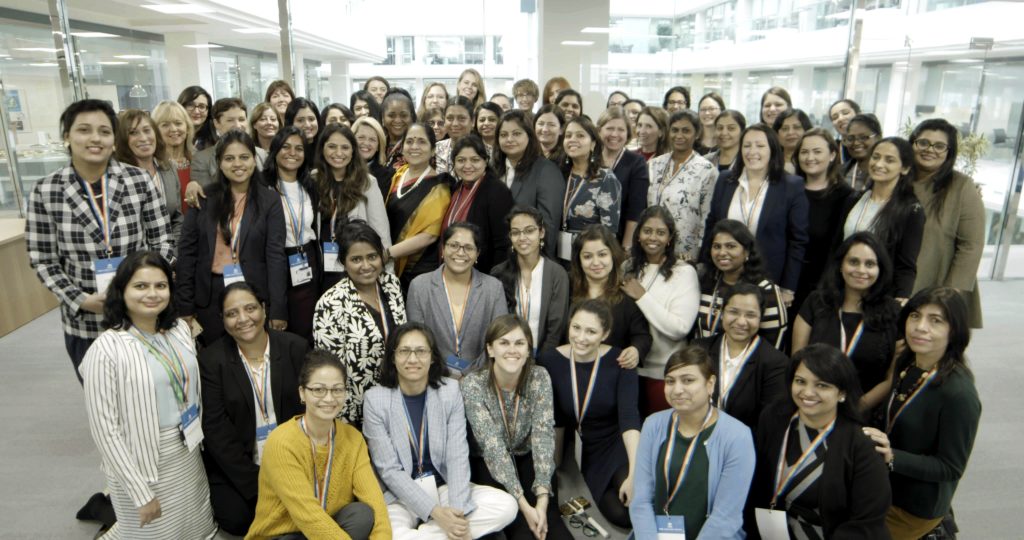 Breaking through
In Portugal, Country Head Ana Almeida is one of them. She has achieved a position of leadership having opted for a career in IT consultancy in her 20s.
But she acknowledges that a balanced mix of men and women in the industry in Portugal is something she rarely sees, and says she's been lucky in her career, having been given the opportunity to grow by her male superiors.
"We need men and women as leaders – not just men pushing for men, but people pushing for talent, no matter what."
Award-winning
Mentorship is one key way of advancing women's careers.
Jasleen Budhiraja began her TCS career in recruitment in Bangalore, but is now a Project Manager overseeing the IT transformation of a major financial institution in London.  
Originally a trainee, she was inspired by meeting female Vice Presidents and leaders, and was then mentored through the iConnect program.
"Mentorship really helps," she says. "They said I would be good in a client-facing role because of my presentation skills. Sometimes you need that little push before taking that that leap of faith."
She was recently recognized as a Young Leader finalist at the Women in IT Awards 2019, attributing her success to being encouraged to make the switch from a nontechnical to a technical role, as well as the fact that, on her current project, she's successfully piloted an all-women team.
Budhiraja now uses her experience to encourage girls to study STEM subjects, both in the UK and in India.
"Even when I was in high school, everybody said, 'IT? I don't think so'. It was always deemed to be very complicated. But I've always seen women are better students, they're good in science and math. All they need is to apply it.
"I'm the perfect example of somebody coming from a non-IT background, so everybody can do it."
Starting early
Stanzl agrees that part of the issue with getting more girls into STEM is the stereotypes surrounding IT: "The image is very rational, probably boring and not related to any social element."
But TCS is busting that myth and proving IT is a creative and collaborative role, she explains. As part of that, the Digital Explorers program hosts 1,000 students on a residential week, working with developers on fun projects, like creating apps.
Women bring their own unique skillset into the IT world – skills which are even more important in this era of disruptive innovation and AI, to help organizations achieve seamless digital transformations.
"We're taking our clients on a growth and transformation journey, like open-heart surgery while the plane is flying," says Stanzl. "We're completely changing their business models, so we need the best talent there and balanced perspectives to much better mitigate risks."
At the 2018 Women in Technology and Data Awards, TCS was recognized as the best company for diversity and inclusion.
Stanzl says that TCS' strong sense of Corporate Social Responsibility is part of its 'secret sauce' that helps it attract and retain women. It also gives every one of its 400,000 employees opportunities to learn and develop – allowing them to move between domains, industries and countries:
"If we don't consider diverse perspectives in the creation of technology and services, we might actually create biases unintentionally and those could have far-reaching consequences," she warns.
"We have a huge responsibility to ensure that whatever we deliver to our clients and wider society is actually fair for everyone."