The use of virtual and augmented reality to assist in the rehabilitation of certain physical impairments has been discussed and documented since the 1990s. Now a team from Tata Consultancy Services has, for the first time, brought this potentially life-changing technology platform into the lives of children living with disabilities and locomotive impairments.
The Virtual Habilitation (VHab) platform combines virtual reality with gesture analysis with one clear objective – to deliver targeted physiotherapy.
It differs from past examples of VR rehabilitation in that it is focused on the needs of children who are overcoming movement-related challenges for the first time, rather than helping people to re-learn functions they may have lost through illness and injury.
These are children who are currently on programmes of physical therapy and exercise to help them stay mobile or gain some mobility, or even to be able to interact with the world around them.
For many of these children, they are attempting to learn these skills from scratch. And that means the exercises can be both challenging and uncomfortable at times.
Tailoring the tech to each child's needs
Based in Thiruvananthapuram, the capital city of the Indian state of Kerala, the TCS Innovation Lab has used its incubation function to work on the development of VHab with an NGO called the Adarsh Rehabilitation Centre (ARC).
VHab creates a series of personalized simulated environments that children with autism or cerebral palsy can interact with. It uses motion sensors similar to those found in wearable tech and some gaming hardware, allowing the children to interact with the on-screen action.
It also makes it possible for the developers to craft scenarios and tasks that are tailored to the needs and circumstances of each individual child, increasing the likelihood of positive outcomes.
Cerebral palsy affects early-years muscle development in children. It is typified by a range of locomotive disorders, including muscle tremors, weak or stiff muscles, and diminished coordination.
By comparison, autism is a neurodevelopmental disorder. While it might not come with the same profound and chronic physical symptoms of cerebral palsy, autism can hamper a child's communication, socialization, and cognition.
Children who have either of these conditions are frequently marginalised and excluded from mainstream activities, something the VHab team is committed to help overcome.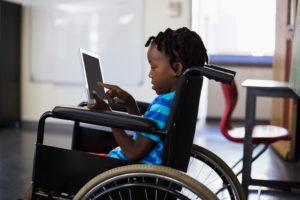 Gamification and rehabilitation
The VHab premise is very simple. By applying the ethos of gamification to the children's physical therapy regimen, the whole process of following an exercise plan can start to become more enjoyable, less arduous, and ultimately more successful.
Children participating in VHab create an on-screen avatar, which becomes a character exploring a series of different challenges and environments. To successfully navigate their avatar through the game, the children must complete a series of physiotherapy exercises in their prescribed programme.
The children are kept motivated by the immersive nature of the VR-powered game platform and their desire to progress further and further. Some enjoy increasing their points score, others love to compete with other VHab participants. But whatever their personal motivation, the children are benefitting.
"The discomfort they used to experience when trying out new movements or exercises no longer seems to be as much of an obstacle," explains Ambili Francis, one of the team of physiotherapists at ARC.
Increased access
In India, there are an estimated 12 million children living with disabilities. That's around 35% of India's population of disabled people. But only 1% of those children are in regular education, and a shocking 80% are thought unlikely to have a life expectancy beyond 40 years.
Initially, VHab operated as a trial and was available to just six children but is now being offered to nearly 200 students across three institutes in Kerala.
The next step is to build a social entrepreneurship platform within TCS. This will enable the development of a VHab ecosystem that will enable a much wider distribution of the platform's capabilities among hospitals and charitable trusts with the help of Tata Trust, giving greater numbers of children access to this transformative technology.