Igniting a passion for technology in young people could help bridge the UK's digital skills gulf.
Rapid advances in artificial intelligence, big data and machine learning are just some of the forces redefining the jobs market at a pace that's only set to accelerate. As the Fourth Industrial Revolution enacts sweeping technological, economic and societal change, it's transforming the world of work, creating new roles that require different capabilities and subsuming others. At Tata Consultancy Services, we call this new world of work Business 4.0.
"It's critically important for young people to embrace the fourth-industrial revolution by way of developing digital skills and know-how," says Yogesh Chauhan, Director of Corporate Sustainability at TCS. "They need to be able to succeed in what's going to be a dramatically different world in terms of jobs and opportunities."
Many organizations already report an acute skills gap. Nearly 90% of science, technology, engineering and mathematics (STEM) firms say a lack of relevant qualifications is holding back recruitment, and almost a quarter of UK small business owners say the lack of digital skills in the workforce is curbing their productivity.
While a government report called this a "major risk" to growth and innovation, and recommended that digital skills be "learned pervasively" at all stages of education, getting qualifications and know-how to keep pace with such wide-ranging advances is a major challenge.
Early engagement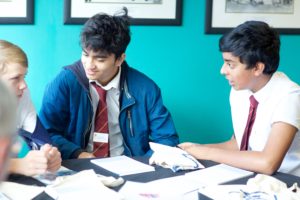 Starting young can help to fire a lifelong interest, spark inquisitiveness and open up the prospect of a digital career. Even as companies invest heavily in emerging technologies and more of our everyday lives migrate online, the number of people studying computing, science and maths remains out of kilter with demand.
Fostering this early curiosity lies at the heart of TCS's STEM outreach programmes, which aim to reach 200,000 young people in the year through March 2019. Central to this are the company's Digital Explorers events, with the most recent held in Scotland.
More than 900 pupils from Edinburgh, West Lothian and Falkirk secondary schools attended sessions on coding, AI, cryptocurrencies, and the Internet of Things, as well as on potential career paths. The bootcamp-style teach-in also helped students develop their soft skills and get an idea of the types of jobs available by meeting a diverse range of professionals from Amazon, Skyscanner, IBM, Sopra Steria, RBS, and Lloyds Banking Group.
"A truly superb, very well organised event," said Willie Bell, Engineering Lead, Group Transformation at Lloyds Banking Group. "This is a great investment by TCS in the future STEM generation in central Scotland. I was privileged to take part."
A passionate response
Digital Explorers events have also been held elsewhere in the UK, including London, Birmingham and Peterborough, as TCS seeks to engage the potential employees of tomorrow. Each session made use of its location, with Birmingham's emerging gaming companies and London's Silicon roundabout professionals giving unique insights. Attendees are typically taking their GCSEs or A-levels, and may still be six years away from full-time employment.
"We're bridging the gap between education and work," Chauhan explains. "We hope there will be a positive shift in how young people make decisions about their studies. We are a significant recruiter in the UK and we are concerned that there aren't enough people with the right skills."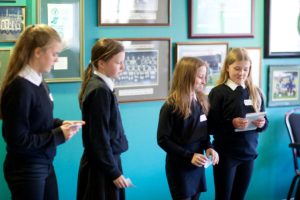 Global talent shortages are already at their highest level since 2006, according to a survey by Manpower, as emerging technology and changing needs leave employers with unfilled roles. After the most recent Digital Explorers event, 80% of attendees said they would choose a career in the digital industries.
Cultivating these shifts in attitude will hopefully also lead to more broad-based benefits. It's not just the digital sector – which contributed around £118.4 billion to the UK economy in 2015 – that needs these skills. Few industries will be left untouched by the changes that are now in train.
"It's about the role that technology can play when applied to a problem," Chauhan says. "We want young people to follow their passion, and understand that technology can help them do that."